April 21, 2009
Finally some good news…..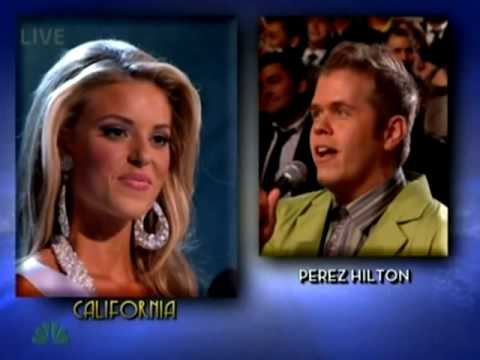 This is a videoblog that Putz Hilton posted right after the show.
It immediately confirms that he used the show selfishly to promote himself, and his causes and beliefs, taking away the focus of what the night was for.
I think he gloriously calls himself "the youtube moment" of the pagent, only reinforcing that this awful mutant had only one intention.
Miss California answered bravely, albeit not entirely in the most articulate manner.
I don't agree with her view on marriage, but considering the circumstances I thought her anser was authentic and inspiring. Inspiring in the sense that her view on same-sex marriage may not have been the most "politcally correct", and she answered truthfully.
This "self-monster" Hilton even has the audacity to use the word "UNITER" in his meandering tape.
The idea that he's using words like "unite" and "inspire", when his blog remains the single biggest piece of divisive, unispiring trash on the net, is awesome.
He has become EXTREMELY RELEVANT sadly, by using his blog to viciously attack the way people's children look, people's weight, their skin complextion, almost anything that doesn't or shouldn't matter in choosing to have an opinion about someone.
After watching this, it made me relieved to be honest.
This guy like most of us, is his own worst enemy.
We need everyone to book this guy on everything, so America can finally really see how in over his head and unauthentic he is, unless he's commenting like mean 14 yr old girls would in a juinor high.
That's where he belongs.
Irrelevant.